Hank is a Kelpie x Staffy who was rescued in 2012 from the fabulous Dogs' Refuge Home in Shenton Park. Laura knew he was the man for her the minute they met!
Back when Laura was working corporate, it pained her everyday leaving Hank behind. All Laura wanted to do was hang out with her best mate every day and this is how the idea of PawPals originated so she decided to leave the office to pursue her dream.
Laura has since added another man into her life! His name is Dutch and was rescued from over East through Herd to Home Rescue and so she now has 2 shadows following her and her dreams!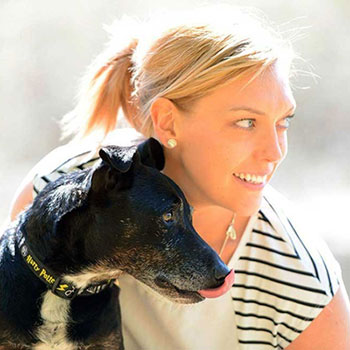 Rescue dogs have a massive place in Laura's heart and she would rescue all the dogs if she had her way but she can't (as her partner insists he deserves a space in their bed) so instead, her long term goal is to help fund rescues where ever she can.
Laura has a degree in Advertising and Media, a Certificate in Canine Behavior and a Certificate in Canine First Aid. It is Laura's aim to ensure your dog has a fantastic day out in a safe and fun environment, playing with their friends and surrounded by people who adore what they do.
Owned & operated by certified experts in canine behaviour.
Stimulating and safe environment with other friendly dogs.
220+sqm of energy burning indoor/outdoor playgrounds.
Four separate playgrounds including tunnels, ramps and paddling pools!
We welcome all sizes and breeds. 
All dogs are free to roam under close supervision.